>
>
>
CNC metal laser cutter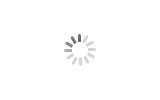 CNC metal laser cutter
Brand :KAY
Product origin :China
The CNC laser cutting machine is to focus the laser emitted from the laser into a high power density laser beam through the optical path system.

Laser cutting replaces traditional mechanical knives with invisible beams. It has the characteristics of high cutting precision, fast cutting speed, not limited to cutting patterns, automatic typesetting to save materials, smooth incisions, and low cutting costs. With the rapid development of China's laser cutting machine manufacturing industry in the past five years, it will gradually improve or replace the traditional metal cutting process equipment. It can process plane or three-dimensional workpieces of any shape, and can cut the whole plate with large width, which has excellent economy.

Compared with traditional flame, plasma and other cutting processes, laser cutting has faster cutting speed, less waste of raw materials, small heat affected zone, good verticality of the kerf edge, smooth cutting edge, and can cut a variety of materials, including carbon steel, stainless steel, Alloy steel, wood, plastic, rubber, cloth, quartz, ceramics, glass, composite materials, etc. Laser cutting machines have been widely used in the fields of automobiles, machinery, electricity, hardware and electrical appliances.
●CNC metal laser cutter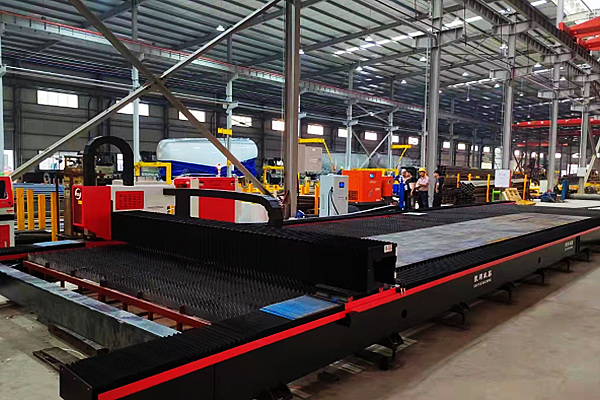 ◆Technical parameter
1. Host: KAY 4000S/4500S/5000S/6000S
2. Precision line speed reducer: Japanese brand/German brand
3. Laser cutting head: domestic/imported
4. Bed, control cabinet, console: KAY
5. Circulating chiller: China's first-line brand
6. Precision rack and pinion: Taiwan technology / German brand
7. Precision linear guide rail: Taiwan craft / Japanese brand
8. Servo motor: Japanese brand
9. Laser generator: Chinese first-line brand/German brand
10. Gas control system: KAY
11. Size of cutting plate: width 1500~5000mm; length 6000~12000mm
◆Core advantages:
1. The work efficiency is linearly increased by 20~30%
2. Reduce the loss of raw materials by 1~5%
3. Reduce labor by 30~50%
4. Reduce energy consumption: effectively reduce gas emissions and electricity consumption
◆Features:
1. Double-sided drive of linear guide rail, accurate and more stable operation
2. The overall tempering of the bed eliminates stress, has small deformation, and has higher rigidity and precision
3. Adopt safety light curtain design to effectively ensure the safety of personnel
●CNC laser table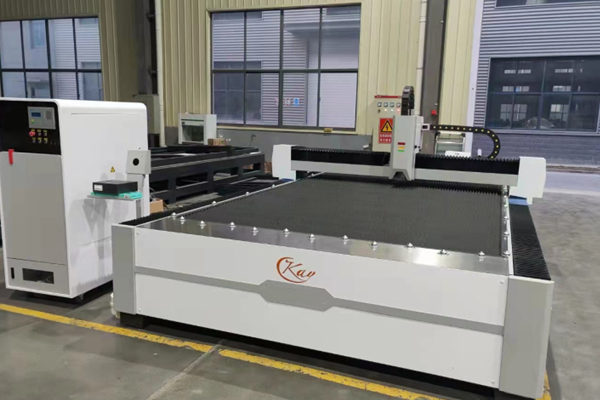 ◆Technical parameter
| | | | | | |
| --- | --- | --- | --- | --- | --- |
| size | KAY-3015 | KAY-4020 | KAY-6020 | KAY-6025 | unit |
| Cut size | 3000*1500 | 4000*2000 | 6000*2000 | 6000*2500 | mm |
| X-axis travel | 3050 | 4050 | 6050 | 6050 | mm |
| Y-axis travel | 1550 | 2080 | 2050 | 2550 | mm |
| Z-axis travel | 310 | 310 | 310 | 295 | mm |
| X, Y axis positioning accuracy | ±0.03 | ±0.03 | ±0.03 | ±0.03 | mm/m |
| X, Y axis repeated positioning accuracy | 0.02 | 0.02 | 0.02 | 0.02 | mm |
| Machine maximum positioning speed | 150 | 150 | 150 | 150 | m/min |
| Max acceleration | 1.5 | 1.5 | 1.5 | 1.5 | g |
◇Laser power:4000~12000W

◆Core advantages:
1. The work efficiency is linearly increased by 20~30%
2. Reduce the loss of raw materials by 1~5%
3. Reduce labor by 30~50%
4. Reduce energy consumption: effectively reduce gas emissions and electricity consumption
◆Main feature:
1. Double-layer parallel moving exchange cutting table, driven by servo motor
2. Comprehensive security protection
3. Lightweight structural design, using aluminum alloy moving beam
4. Increase the Z-axis travel range to meet wider needs
5. Symmetrical structure design to meet different site requirements
6. Semi-automatic gas control method to reduce equipment procurement costs
Customized design of general fabricated steel silo needs to provide: 1. Storage material name 2. Density of storage material 3. Storage material particle size 4. Storage capacity 5. Feeding method 6. Discharge method and size of discharge port 7. The height of the discharge port from the ground
...more
Get the latest price? We'll respond as soon as possible(within 12 hours)