>
>
>
Pneumatic Conveying System for Powder
Pneumatic Conveying System for Powder
Central Asia customers successfully debugging Ton Bag unpacking pneumatic conveying system, help the production line to run efficiently
Recently, our Central Asian customer successfully debugged a set of Ton Bag unpacking pneumatic conveying system, which will be officially put into use. This is another important progress after the customer ordered a set of Ton Bag Unpacking Stations and 1.5m3 bin pump pneumatic conveying system from our company in May this year. The system is mainly used for conveying ton bag powder in the factory, storing the raw materials in Ton Bag into the 80m3 raw material silo to provide materials for the production line.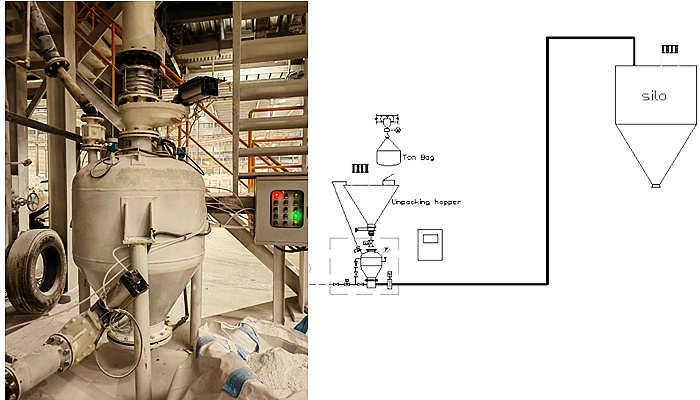 The system configuration is comprehensive, including Ton Bag unpacking hopper (with pulse dust collector negative pressure dust collection, effectively collecting dust particles when unpacking Ton Bag), 1.5m3 bin pump, conveying pipeline, PLC control system and so on. The project adopts the positive pressure dense-phase conveying method, and the conveying air source is compressed air, which is intermittent conveying. Considering the characteristics of the material (easy to block the pipeline), we have installed an auxiliary soot blowing system in the pipeline design, and the PLC control system automatically starts the auxiliary air source according to the feedback signal of the pressure of the conveying main line, in order to enhance the flow of the material in the pipeline, and to avoid the material from blocking the pipeline.
The successful commissioning of this system marks a new breakthrough for our company in the Central Asian market for powder pneumatic conveying system. The application of Ton Bag unpacking pneumatic conveying system can not only solve the problem of storage of Ton Bag materials, but also achieve the dust-free transfer of materials inside the Ton Bag, which can effectively solve the pollution of the working environment and the loss of material spilling during the process of unpacking of Ton Bags for the customers.
Powder concentrated phase pneumatic conveying system is a frequent choice for longer distance conveying of powder materials in Ton Bag. As an enterprise focusing on the research, development and manufacture of powder conveying system, we always adhere to technological innovation to meet customer needs as our responsibility. We provide customers with one-stop service from programme design, equipment manufacturing, installation and commissioning to after-sales service, to help customers solve all kinds of powder conveying problems.
In the future, we will continue to increase investment in research and development, improve product performance, with better products and services back to customers, to help our customers' production needs.
Get the latest price? We'll respond as soon as possible(within 12 hours)